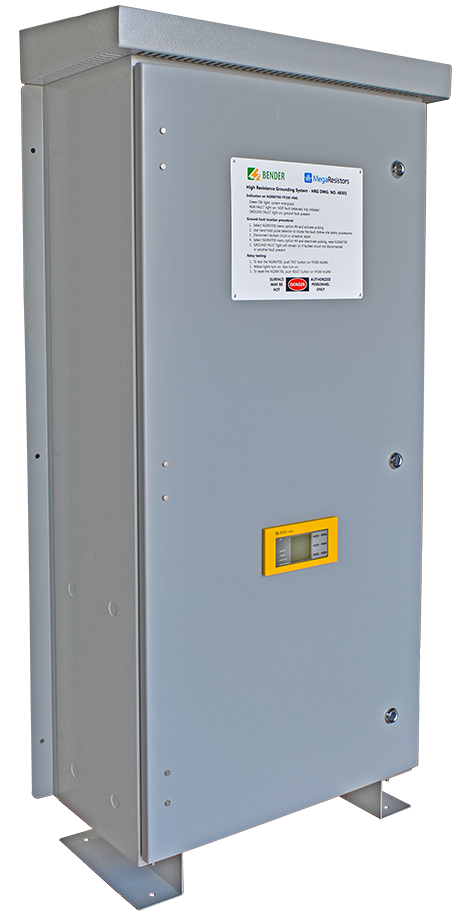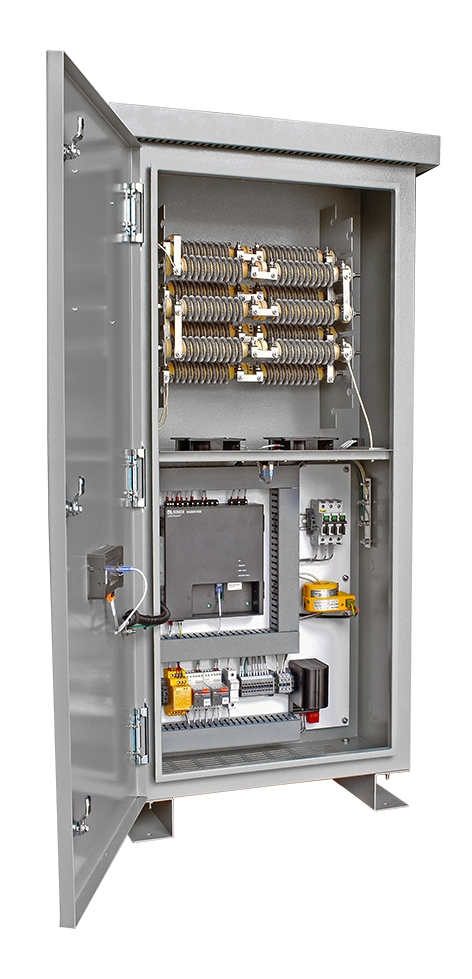 Open and shortened monitoring of neutral grounding resistor through

Resistance monitoring with passive and active measurement methods
Current and voltage monitoring
Functional even when de-energized

Monitoring of current transformer
AC and DC current monitoring
Built in pulsing for handheld ground fault tracing
Advanced harmonics analysis and filtering – no nuisance tripping
Individually adjustable ground fault indication values
Built in test and reset capability
Password protection
Configurable in English, French, Spanish, and German
Intermediate HRG
Our intermediate model HRG brings the newest technology of 2018 together to create the most advanced level of protection at a reasonable price. With integrated resistor monitoring, pulsing, harmonics filtering, communications, and data logging, this system is the best solution for managing ground faults.
A conveniently designed enclosure allows for wall-mounting or floor-mounting depending on your preferences and available space. The front panel comes with the main HMI directly mounted, accessible in four different languages. Authorized repair personnel can directly interact with and control the entire system from this HMI.
Quote Request
[[[["field112","equal_to","Other"]],[["show_fields","field116"]],"and"],[[["field115","equal_to","Tapped"],["field115","equal_to","Other"]],[["show_fields","field117"]],"or"],[[["field114","equal_to","Delta"]],[["show_fields","field119,field120"]],"and"]]
keyboard_arrow_leftPrevious
Nextkeyboard_arrow_right
Modern HTML5 web interface: device alarm status and readings, accessible from any computer or phone
Data logging: memory for up to 1000 events
Modbus/TCP third party device support
Connects to any standard ethernet network
Voltage
Please provide the line to neutral (L/N) voltage. Standard ratings are 277V (480V L/L), 347V (600V L/L), and 2400V (4160V L/L).
Current
The ground fault current. Typical ratings are 5 Amps or 10 Amps. A multi-tapped resistor is also possible, meeting the requirements for multiple ground fault currents at once (e.g. one at 2A, another at 5A, another at 10A).
System Type
A Wye configuration is the standard, when there is a readily available neutral. When there is a Delta configuration, we must create a neutral with the use of a Zig-Zag (Neutral Grounding) transformer. If you select Delta, we can provide a Zig-Zag if we know your system rated kVA and primary voltage.
Control Power
The power supplied for the HRG control panel. We can provide 120VAC or 24VDC depending on your preference, our standard is 120VAC.
Strobe Light: any time there is a ground fault a red strobe light will alert all staff
Horn: any time there is a ground fault a horn / buzzer will alert all staff
Heater: if the environment your HRG will be in is subject to cold temperatures, condensation can begin to accumulate and potentially damage parts. A condensation prevention heater can be installed to prevent this.