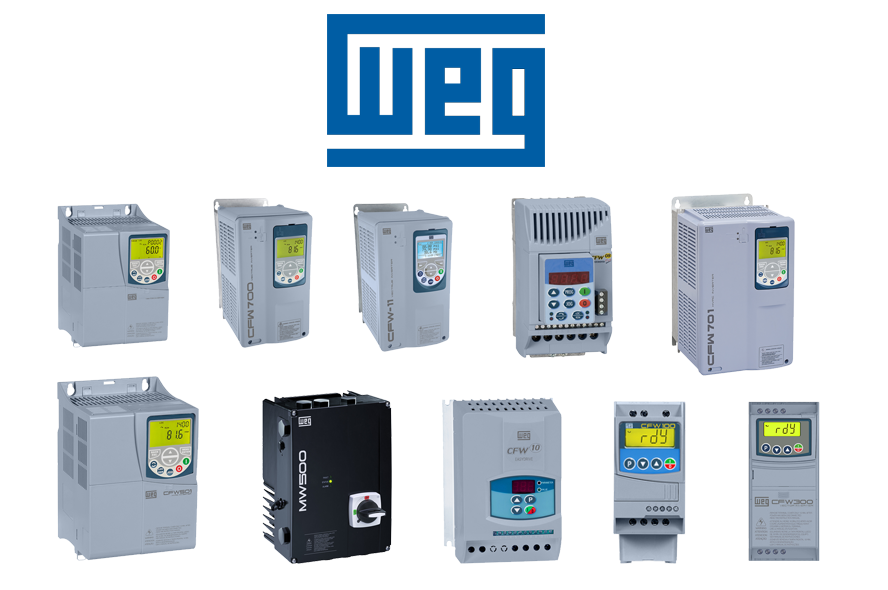 WEG is a manufacturer of Variable Speed Drives, with an extensive offering that covers low and high powered applications, along with industry specific products.
They have developed extensive documentation on applying Dynamic Braking with their drives, and we have developed a complementary offering of Dynamic Braking Resistors.
If you're a distributor, integrator, or end user of WEG drives you will find this page useful for finding information on braking resistors, and getting a quote for a braking resistor.
All of our resistors are fully manufactured in Canada and are cULus listed. Whether you're looking for a specific part number, or a customized product designed for your application, we can help.
We always provide the best prices, lead times, and quality.
Quote Request
keyboard_arrow_leftPrevious
Nextkeyboard_arrow_right
WEG has standard duty cycles with a total cycle time of 60 seconds all at a braking torque of 100%. Common duty cycle ratings are:
6 seconds on, 54 seconds off (10% duty cycle)
12 seconds on, 48 seconds off (20% duty cycle)
30 seconds on, 30 seconds off (50% duty cycle)
In order to select a resistor, find your drive model number and choose your duty cycle and request the appropriate resistor model number. If you have a more intensive duty cycle (such as 60 seconds on, 20 seconds off), please provide us with the drive model number and your desired duty cycle. If your drive is not listed, you must first verify that it comes with an integrated braking transistor by referring to the WEG documentation. Without this option, dynamic braking is not possible.
Any resistor model numbers in the tables with an asterisk indicate a special order that you should get more information on from us.
20% Duty Cycle - Braking Resistor Selection Table
| Drive Model | Motor Voltage | Motor Power (HP) | WEG Resistor Catalog Number | WEG Dimensions (in) HxWxD | MegaResistors Model Number | Resistance (Ohms) | Power (W) | Weight (lbs) | Dimensions (in) HxWxD |
| --- | --- | --- | --- | --- | --- | --- | --- | --- | --- |
| CFW700A06P0B2DBN1 | 230 Vac | 1.5 | CFDB5-125-224 | 5 x 12 x 5 | MR5-125-224 | 125 | 280 | 11 | 5.25 x 8 x 15 |
| CFW700A07P0B2DBN1 | 230 Vac | 2 | CFDB5-95-298 | 5 x 12 x 7 | MR5-95-298 | 95 | 500 | 12 | 5.25 x 8 x 15 |
| CFW700A07P0T2DBN1 | 230 Vac | 2 | CFDB5-95-298 | 5 x 12 x 7 | MR5-95-298 | 95 | 500 | 12 | 5.25 x 8 x 15 |
| CFW700A10P0S2DBN1 | 230 Vac | 3 | CFDB5-63-448 | 5 x 12 x 7 | MR5-63-448 | 65 | 760 | 12 | 5.25 x 8 x 15 |
| CFW700A10P0T2DBN1 | 230 Vac | 3 | CFDB5-63-448 | 5 x 12 x 7 | MR5-63-448 | 65 | 760 | 12 | 5.25 x 8 x 15 |
| CFW700A13P0T2DBN1 | 230 Vac | 5 | CFDB5-38-746 | 5 x 12 x 10 | MR5-38-746 | 40 | 850 | 12 | 5.25 x 8 x 15 |
| CFW700A16P0T2DBN1 | 230 Vac | 5 | CFDB5-38-746 | 5 x 12 x 10 | MR5-38-746 | 40 | 850 | 12 | 5.25 x 8 x 15 |
| CFW700B24P0T2DBN1 | 230 Vac | 7.5 | CFDB5-26-1119 | 5 x 12 x 13 | MR5-26-1119 | 26 | 1350 | 19 | 5.25 x 14 x 15 |
| CFW700B28P0T2DBN1 | 230 Vac | 10 | CFDB5-19-1492 | 5 x 12 x 16 | MR5-19-1492 | 20 | 1700 | 19 | 5.25 x 14 x 15 |
| CFW700B33P5T2DBN1 | 230 Vac | 10 | CFDB5-19-1492 | 5 x 12 x 16 | MR5-19-1492 | 20 | 1700 | 19 | 5.25 x 14 x 15 |
| CFW700C45P0T2DBN1 | 230 Vac | 15 | CFDB5-13-2238 | 5 x 19 x 10 | MR5-13-2238 | 13 | 2700 | 10 | 5.25 x 14 x 22 |
| CFW700C54P0T2DBN1 | 230 Vac | 20 | CFDB5-10-2984 | 5 x 19 x 10 | MR5-10-2984 | 9.6 | 3300 | 21 | 5.25 x 11 x 22 |
| CFW700C70P0T2DBN1 | 230 Vac | 25 | CFDB5-8-3730 | 5 x 19 x 13 | MR5-8-3730 | 7.69 | 4300 | 8 | 5.25 x 14 x 22 |
| CFW700D86P0T2DBN1 | 230 Vac | 30 | CFDB5-7-4476 | 5 x 26.5 x 13 | MR5-7-4476 | 6.51 | 7100 | 40 | 8.25 x 18 x 20 |
| CFW700D0105T2DBN1 | 230 Vac | 40 | CFDB5-5-5968 | 5 x 26.5 x 16 | MR5-5-5968 | 5.2 | 7200 | 40 | 8.25 x 18 x 20 |
| CFW700E142T2DBN1C3 | 230 Vac | 50 | CFDB5-4-7460 | 10 x 28 x 10 | MR5-4-7460 | 4.1 | 9100 | 42 | 8.25 x 18 x 20 |
| CFW700E180T2DBN1C3 | 230 Vac | 60 | CFDB5-4-8952 | 10 x 28 x 10 | MR5-4-8952 | 3.47 | 10700 | 30 | 8.25 x 24 x 20 |
| CFW700E211T2DBN1C3 | 230 Vac | 75 | CFDB5-3-11190 | 10 x 28 x 13 | MR5-3-11190 | 2.79 | 12200 | 32 | 8.25 x 24 x 20 |
| CFW700A03P6T4DBN1 | 460 Vac | 2 | CFDB5-375-298 | 5 x 12 x 7 | MR5-375-298 | 375 | 850 | 18 | 5.25 x 14 x 15 |
| CFW700A05P0T4DBN1 | 460 Vac | 3 | CFDB5-250-448 | 5 x 12 x 7 | MR5-250-448 | 250 | 570 | 12 | 5.25 x 8 x 15 |
| CFW700A07P0T4DBN1 | 460 Vac | 5 | CFDB5-150-746 | 5 x 12 x 10 | MR5-150-746 | 150 | 800 | 18 | 5.25 x 14 x 15 |
| CFW700A10P0T4DBN1 | 460 Vac | 7.5 | CFDB5-100-1119 | 5 x 12 x 13 | MR5-100-1119 | 105 | 1200 | 18 | 5.25 x 14 x 15 |
| CFW700A13P5T4DBN1 | 460 Vac | 10 | CFDB5-75-1492 | 5 x 12 x 16 | MR5-75-1492 | 80 | 1700 | 19 | 5.25 x 14 x 15 |
| CFW700B17P0T4DBN1 | 460 Vac | 10 | CFDB5-75-1492 | 5 x 12 x 16 | MR5-75-1492 | 80 | 1700 | 19 | 5.25 x 14 x 15 |
| CFW700B24P0T4DBN1 | 460 Vac | 15 | CFDB5-50-2238 | 5 x 19 x 13 | MR5-50-2238 | 52 | 2700 | 10 | 5.25 x 14 x 22 |
| CFW700B31P0T4DBN1 | 460 Vac | 20 | CFDB5-38-2984 | 5 x 19 x 16 | MR5-38-2984 | 40 | 3400 | 10 | 5.25 x 14 x 22 |
| CFW700C38P0T4DBN1 | 460 Vac | 25 | CFDB5-30-3730 | 5 x 26.5 x 13 | MR5-30-3730 | 30.1 | 4800 | 43 | 8.25 x 18 x 20 |
| CFW700C45P0T4DBN1 | 460 Vac | 30 | CFDB5-25-4476 | 5 x 26.5 x 13 | MR5-25-4476 | 26 | 5400 | 46 | 8.25 x 18 x 20 |
| CFW700C58P5T4DBN1 | 460 Vac | 40 | CFDB5-19-5968 | 5 x 26.5 x 16 | MR5-19-5968 | 19.2 | 6600 | 37 | 8.25 x 18 x 20 |
| CFW700E105T4DBN1C3 | 460 Vac | 75 | CFDB5-10-11190 | 10 x 28 x 16 | MR5-10-11190 | 10.2 | 11200 | 30 | 8.25 x 24 x 20 |
| CFW700E180T4DBN1C3 | 460 Vac | 150 | CFDB5-5-22380 | 24 x 30 x 18 | MR5-5-22380 | 5.27 | 23000 | 128 | 22.5 x 21.6 x 26 |
| CFW700E211T4DBN1C3 | 460 Vac | 175 | CFDB5-5-29840 | 24 x 30 x 18 | MR5-5-29840 | 5.36 | 30200 | 178 | 30 x 21.6 x 26 |
| CFW700E142T4DBN1C3 | 460 Vac | 100/125 | CFDB5-8-18650 | 24 x 30 x 18 | MR5-8-18650 | 8 | 24700 | 148 | 30 x 21.6 x 26 |
| CFW700D70P5T4DBN1 | 460 Vac | 50/60 | CFDB2-15-8952 | 10 x 28 x 13 | MR2-15-8952 | 16.4 | 9100 | 42 | 8.25 x 18 x 20 |
| CFW700D88P0T4DBN1 | 460 Vac | 60/75 | CFDB5-10-11190 | 10 x 28 x 16 | MR5-10-11190 | 10.2 | 11200 | 30 | 8.25 x 24 x 20 |
50% Duty Cycle - Braking Resistor Selection Table
| Drive Model | Motor Voltage | Motor Power (HP) | WEG Resistor Catalog Number | WEG Dimensions (in) HxWxD | MegaResistors Model Number | Resistance (Ohms) | Power (W) | Weight (lbs) | Dimensions (in) HxWxD |
| --- | --- | --- | --- | --- | --- | --- | --- | --- | --- |
| CFW700A06P0B2DBN1 | 230 Vac | 1.5 | CFDB5-125-560 | 5 x 12 x 10 | MR5-125-560 | 128 | 680 | 18 | 5.25 x 14 x 15 |
| CFW700A07P0B2DBN1 | 230 Vac | 2 | CFDB5-95-746 | 5 x 12 x 10 | MR5-95-746 | 97.5 | 1130 | 18 | 5.25 x 14 x 15 |
| CFW700A7P0T2DBN1 | 230 Vac | 2 | CFDB5-95-746 | 5 x 12 x 10 | MR5-95-746 | 97.5 | 1130 | 18 | 5.25 x 14 x 15 |
| CFW700A10P0S2DBN1 | 230 Vac | 3 | CFDB5-63-1119 | 5 x 12 x 10 | MR5-63-1119 | 70 | 1500 | 19 | 5.25 x 14 x 15 |
| CFW700A10P0T2DBN1 | 230 Vac | 3 | CFDB5-63-1119 | 5 x 12 x 10 | MR5-63-1119 | 70 | 1500 | 19 | 5.25 x 14 x 15 |
| CFW700A13P0T2DBN1 | 230 Vac | 5 | CFDB5-38-1865 | 5 x 19 x 13 | MR5-38-1865 | 39 | 2000 | 22 | 5.25 x 11 x 22 |
| CFW700A16P0T2DBN1 | 230 Vac | 5 | CFDB5-38-1865 | 5 x 19 x 13 | MR5-38-1865 | 39 | 2000 | 22 | 5.25 x 11 x 22 |
| CFW700B24P0T2DBN1 | 230 Vac | 7.5 | CFDB5-26-2798 | 5 x 26.5 x 13 | MR5-26-2798 | 26 | 3200 | 10 | 5.25 x 14 x 22 |
| CFW700B28P0T2DBN1 | 230 Vac | 10 | CFDB5-19-3730 | 5 x 26.5 x 13 | MR5-19-3730 | 19.5 | 4100 | 41 | 8.25 x 18 x 20 |
| CFW700B33P5T2DBN1 | 230 Vac | 10 | CFDB5-19-3730 | 5 x 26.5 x 13 | MR5-19-3730 | 19.5 | 4100 | 41 | 8.25 x 18 x 20 |
| CFW700C45P0T2DBN1 | 230 Vac | 15 | CFDB5-13-5595 | 5 x 26.5 x 16 | MR5-13-5595 | 12.8 | 7100 | 40 | 8.25 x 18 x 20 |
| CFW700C54P0T2DBN1 | 230 Vac | 20 | CFDB5-10-7460 | 10 x 28 x 13 | MR5-10-7460 | 9.61 | 10500 | 45 | 8.25 x 18 x 20 |
| CFW700C70P0T2DBN1 | 230 Vac | 25 | CFDB5-8-9325 | 10 x 28 x 13 | MR5-8-9325 | 7.6 | 10500 | 27 | 8.25 x 24 x 20 |
| CFW700D86P0T2DBN1 | 230 Vac | 30 | CFDB5-7-11190 | 10 x 28 x 16 | MR5-7-11190 | 6.41 | 14200 | 113 | 22.5 x 21.6 x 26 |
| CFW700D0105T2DBN1 | 230 Vac | 40 | CFDB5-5-14920 | 24 x 30 x 18 | MR5-5-14920 | 5.07 | 15700 | 113 | 22.5 x 21.6 x 26 |
| CFW700E142T2DBN1C3 | 230 Vac | 50 | CFDB5-4-18650 | 24 x 30 x 18 | MR5-4-18650 | 4.34 | 19000 | 119 | 22.5 x 21.6 x 26 |
| CFW700E180T2DBN1C3 | 230 Vac | 60 | CFDB5-4-22380 | 24 x 30 x 18 | MR5-4-22380 | 3.99 | 22500 | 161 | 30 x 21.6 x 26 |
| CFW700E211T2DBN1C3 | 230 Vac | 75 | CFDB5-3-27975 | 32 x 30 x 18 | MR5-3-27975 | 2.89 | 28400 | 155 | 30 x 21.6 x 26 |
| CFW700A03P6T4DBN1 | 460 Vac | 2 | CFDB5-375-746 | 5 x 12 x 13 | MR5-375-746 | 375 | 850 | 18 | 5.25 x 14 x 15 |
| CFW700A05P0T4DBN1 | 460 Vac | 3 | CFDB5-250-1119 | 5 x 12 x 16 | MR5-250-1119 | 250 | 1300 | 21 | 5.25 x 11 x 22 |
| CFW700A07P0T4DBN1 | 460 Vac | 5 | CFDB5-150-1865 | 5 x 19 x 13 | MR5-150-1865 | 162 | 1900 | 21 | 5.25 x 11 x 22 |
| CFW700A10P0T4DBN1 | 460 Vac | 7.5 | CFDB5-100-2798 | 5 x 19 x 16 | MR5-100-2798 | 104 | 3200 | 10 | 5.25 x 14 x 22 |
| CFW700A13P5T4DBN1 | 460 Vac | 10 | CFDB5-75-3730 | 5 x 26.5 x 16 | MR5-75-3730 | 78 | 4100 | 41 | 8.25 x 18 x 20 |
| CFW700B17P0T4DBN1 | 460 Vac | 10 | CFDB5-75-3730 | 5 x 26.5 x 16 | MR5-75-3730 | 78 | 4100 | 41 | 8.25 x 18 x 20 |
| CFW700B24P0T4DBN1 | 460 Vac | 15 | CFDB5-50-5595 | 10 x 28 x 13 | MR5-50-5595 | 52 | 6300 | 46 | 8.25 x 18 x 20 |
| CFW700B31P0T4DBN1 | 460 Vac | 20 | CFDB5-38-7460 | 10 x 28 x 13 | MR5-38-7460 | 39 | 8100 | 38 | 8.25 x 24 x 20 |
| CFW700C38P0T4DBN1 | 460 Vac | 25 | CFDB5-30-9325 | 10 x 28 x 16 | MR5-30-9325 | 30.4 | 10500 | 27 | 8.25 x 24 x 20 |
| CFW700C45P0T4DBN1 | 460 Vac | 30 | CFDB5-25-11190 | 10 x 28 x 16 | MR5-25-11190 | 25.1 | 13900 | 111 | 22.5 x 21.6 x 26 |
| CFW700C58P5T4DBN1 | 460 Vac | 40 | CFDB5-19-14920 | 24 x 30 x 18 | MR5-19-14920 | 19.2 | 21000 | 123 | 22.5 x 21.6 x 26 |
| CFW700D88P0T4DBN1 | 460 Vac | 75 | CFDB5-10-27975 | 32 x 30 x 18 | MR5-10-27975 | 10.1 | 31300 | 179 | 37.5 x 21.6 x 26 |
| CFW700E105T4DBN1C3 | 460 Vac | 75 | CFDB5-10-27975 | 32 x 30 x 18 | MR5-10-27975 | 10.1 | 31300 | 179 | 37.5 x 21.6 x 26 |
| CFW700E180T4DBN1C3 | 460 Vac | 150 | CFDB5-5-55950 | 48 x 30 x 18 | MR5-5-55950 | 5.79 | 56800 | 243 | 45 x 21.6 x 26 |
| CFW700E211T4DBN1C3 | 460 Vac | 175 | CFDB5-5-74600 | 72 x 30 x 18 | MR5-5-74600* | | | | |
| CFW700E142T4DBN1C3 | 460 Vac | 100/125 | CFDB5-8-46625 | 32 x 30 x 18 | MR5-8-46625 | 8.3 | 46700 | 256 | 45 x 21.6 x 26 |
| CFW700D70P5T4DBN1 | 460 Vac | 50/60 | CFDB2-15-22380 | 24 x 30 x 18 | MR2-15-22380 | 16 | 22000 | 141 | 30 x 21.6 x 26 |
20% Duty Cycle - Braking Resistor Selection Table
| Drive Model | Motor Voltage | Motor Power (HP) | WEG Resistor Catalog Number | WEG Dimensions (in) HxWxD | MegaResistors Model Number | Resistance (Ohms) | Power (W) | Weight (lbs) | Dimensions (in) HxWxD |
| --- | --- | --- | --- | --- | --- | --- | --- | --- | --- |
| CFW110006B2ON1Z | 230 Vac | 1.5 | CFDB2-125-224 | 5 x 12 x 5 | MR2-125-224 | 125 | 280 | 11 | 5.25 x 8 x 15 |
| CFW110007B2ON1Z | 230 Vac | 2 | CFDB2-95-298 | 5 x 12 x 7 | MR2-95-298 | 95 | 500 | 12 | 5.25 x 8 x 15 |
| CFW110007T2ON1Z | 230 Vac | 2 | CFDB2-95-298 | 5 x 12 x 7 | MR2-95-298 | 95 | 500 | 12 | 5.25 x 8 x 15 |
| CFW110010S2ON1Z | 230 Vac | 3 | CFDB2-63-448 | 5 x 12 x 7 | MR2-63-448 | 65 | 760 | 12 | 5.25 x 8 x 15 |
| CFW110010T2ON1Z | 230 Vac | 3 | CFDB2-63-448 | 5 x 12 x 7 | MR2-63-448 | 65 | 760 | 12 | 5.25 x 8 x 15 |
| CFW110013T2ON1Z | 230 Vac | 5 | CFDB2-38-746 | 5 x 12 x 10 | MR2-38-746 | 40 | 850 | 12 | 5.25 x 8 x 15 |
| CFW110016T2ON1Z | 230 Vac | 5 | CFDB2-38-746 | 5 x 12 x 10 | MR2-38-746 | 40 | 850 | 12 | 5.25 x 8 x 15 |
| CFW110024T2ON1Z | 230 Vac | 7.5 | CFDB5-26-1119 | 5 x 12 x 13 | MR5-26-1119 | 26 | 1350 | 19 | 5.25 x 14 x 15 |
| CFW110028T2ON1Z | 230 Vac | 10 | CFDB2-19-1492 | 5 x 12 x 16 | MR2-19-1492 | 20 | 1700 | 19 | 5.25 x 14 x 15 |
| CFW110033T2ON1Z | 230 Vac | 10 | CFDB2-19-1492 | 5 x 12 x 16 | MR2-19-1492 | 20 | 1700 | 19 | 5.25 x 14 x 15 |
| CFW110045T2ON1Z | 230 Vac | 15 | CFDB2-13-2238 | 5 x 19 x 10 | MR2-13-2238 | 13 | 2700 | 10 | 5.25 x 14 x 22 |
| CFW110054T2ON1Z | 230 Vac | 20 | CFDB2-10-2984 | 5 x 19 x 10 | MR2-10-2984 | 9.6 | 3300 | 21 | 5.25 x 11 x 22 |
| CFW110070T2ON1Z | 230 Vac | 25 | CFDB2-8-3730 | 5 x 19 x 13 | MR2-8-3730 | 7.69 | 4300 | 8 | 5.25 x 14 x 22 |
| CFW110086T2ON1Z | 230 Vac | 30 | CFDB2-7-4476 | 5 x 26.5 x 13 | MR2-7-4476 | 8.2 | 4600 | 8 | 5.25 x 14 x 22 |
| CFW110105T2ON1Z | 230 Vac | 40 | CFDB2-5-5968 | 5 x 26.5 x 16 | MR2-5-5968 | 5.2 | 7200 | 40 | 8.25 x 18 x 20 |
| CFW110142T2ON1DBZ | 230 Vac | 50 | CFDB2-4-7460 | 10 x 28 x 10 | MR2-4-7460 | 4.1 | 9100 | 42 | 8.25 x 18 x 20 |
| CFW110180T2ON1DBZ | 230 Vac | 60 | CFDB2-4-8952 | 10 x 28 x 10 | MR2-4-8952 | 3.47 | 10700 | 30 | 8.25 x 24 x 20 |
| CFW110211T2ON1DBZ | 230 Vac | 75 | CFDB2-3-11190 | 10 x 28 x 13 | MR2-3-11190 | 2.79 | 12200 | 32 | 8.25 x 24 x 20 |
| CFW110003T4ON1Z | 460 Vac | 2 | CFDB2-375-298 | 5 x 12 x 7 | MR2-375-298 | 375 | 850 | 18 | 5.25 x 14 x 15 |
| CFW110005T4ON1Z | 460 Vac | 3 | CFDB2-250-448 | 5 x 12 x 7 | MR2-250-448 | 250 | 570 | 12 | 5.25 x 8 x 15 |
| CFW110007T4ON1Z | 460 Vac | 5 | CFDB2-150-746 | 5 x 12 x 10 | MR2-150-746 | 150 | 800 | 18 | 5.25 x 14 x 15 |
| CFW110010T4ON1Z | 460 Vac | 7.5 | CFDB2-100-1119 | 5 x 12 x 13 | MR2-100-1119 | 105 | 1200 | 18 | 5.25 x 14 x 15 |
| CFW110013T4ON1Z | 460 Vac | 10 | CFDB2-75-1492 | 5 x 12 x 16 | MR2-75-1492 | 80 | 1700 | 19 | 5.25 x 14 x 15 |
| CFW110017T4ON1Z | 460 Vac | 10 | CFDB2-75-1492 | 5 x 12 x 16 | MR2-75-1492 | 80 | 1700 | 19 | 5.25 x 14 x 15 |
| CFW110024T4ON1Z | 460 Vac | 15 | CFDB2-50-2238 | 5 x 19 x 13 | MR2-50-2238 | 52 | 2700 | 10 | 5.25 x 14 x 22 |
| CFW110031T4ON1Z | 460 Vac | 20 | CFDB2-38-2984 | 5 x 19 x 16 | MR2-38-2984 | 40 | 3400 | 10 | 5.25 x 14 x 22 |
| CFW110038T4ON1Z | 460 Vac | 25 | CFDB2-30-3730 | 5 x 26.5 x 13 | MR2-30-3730 | 30.1 | 4800 | 43 | 8.25 x 18 x 20 |
| CFW110045T4ON1Z | 460 Vac | 30 | CFDB2-25-4476 | 5 x 26.5 x 13 | MR2-25-4476 | 26 | 5400 | 46 | 8.25 x 18 x 20 |
| CFW110058T4ON1Z | 460 Vac | 40 | CFDB2-19-5968 | 5 x 26.5 x 16 | MR2-19-5968 | 19.2 | 6600 | 37 | 8.25 x 18 x 20 |
| CFW110088T4ON1Z | 460 Vac | 75 | CFDB2-10-11190 | 10 x 28 x 16 | MR2-10-11190 | 10.2 | 11200 | 30 | 8.25 x 24 x 20 |
| CFW110105T4ON1DBZ | 460 Vac | 75 | CFDB2-10-11190 | 10 x 28 x 16 | MR2-10-11190 | 10.2 | 11200 | 30 | 8.25 x 24 x 20 |
| CFW110180T4ON1DBZ | 460 Vac | 150 | CFDB2-5-22380 | 24 x 30 x 18 | MR2-5-22380 | 5.27 | 23000 | 128 | 22.5 x 21.6 x 26 |
| CFW110211T4ON1Z | 460 Vac | 175 | CFDB2-5-29840 | 24 x 30 x 18 | MR2-5-29840 | 5.36 | 30200 | 178 | 30 x 21.6 x 26 |
| CFW110242T4ON1Z | 460 Vac | 200 | CFDB2-4-29840 | 30 x 18 x 32 | MR2-4-29840 | 3.82 | 37500 | 195 | 37.5 x 21.6 x 26 |
| CFW110312T4ON1Z | 460 Vac | 250 | CFDB2-3-37300 | 30 x 18 x 32 | MR2-3-37300 | 3.01 | 38100 | 217 | 37.5 x 21.6 x 26 |
| CFW110370T4ON1Z | 460 Vac | 300 | CFDB2-3-44760 | 30 x 18 x 32 | MR2-3-44760 | 2.6 | 45300 | 258 | 37.5 x 21.6 x 26 |
| CFW110477T4ON1Z | 460 Vac | 350 | CFDB2-3-52220 | 30 x 18 x 48 | MR2-3-52220 | 2.34 | 52800 | 325 | 45 x 21.6 x 26 |
| CFW110515T4ON1Z | 460 Vac | 400 | CFDB2-2-59680 | 30 x 18 x 48 | MR2-2-59680 | 1.92 | 75500 | 388 | 52.5 x 21.6 x 26 |
| CFW110601T4ON1Z | 460 Vac | 500 | CFDB2-2-74600 | 30 x 18 x 64 | MR2-2-74600 | 1.5 | 76000 | 420 | 52.5 x 21.6 x 26 |
| CFW110720T4ON1Z | 460 Vac | 600 | | | Consult Factory | | | | |
| CFW110720T4ON1Z | 460 Vac | 600 | | | Consult Factory | | | | |
| CFW110142T4ON1DBZ | 460 Vac | 100/125 | CFDB2-8-18650 | 24 x 30 x 18 | MR2-8-18650 | 8 | 24700 | 148 | 30 x 21.6 x 26 |
| CFW110070T4ON1Z | 460 Vac | 50/60 | CFDB2-15-8952 | 10 x 28 x 13 | MR2-15-8952 | 16.4 | 9100 | 42 | 8.25 x 18 x 20 |
50% Duty Cycle - Braking Resistor Selection Table
| Drive Model | Motor Voltage | Motor Power (HP) | WEG Resistor Catalog Number | WEG Dimensions (in) HxWxD | MegaResistors Model Number | Resistance (Ohms) | Power (W) | Weight (lbs) | Dimensions (in) HxWxD |
| --- | --- | --- | --- | --- | --- | --- | --- | --- | --- |
| CFW110006B2ON1Z | 230 Vac | 1.5 | CFDB5-125-560 | 5 x 12 x 10 | MR5-125-560 | 128 | 680 | 18 | 5.25 x 14 x 15 |
| CFW110007B2ON1Z | 230 Vac | 2 | CFDB5-95-746 | 5 x 12 x 10 | MR5-95-746 | 97.5 | 1130 | 18 | 5.25 x 14 x 15 |
| CFW110007T2ON1Z | 230 Vac | 2 | CFDB5-95-746 | 5 x 12 x 10 | MR5-95-746 | 97.5 | 1130 | 18 | 5.25 x 14 x 15 |
| CFW110010S2ON1Z | 230 Vac | 3 | CFDB5-63-1119 | 5 x 12 x 10 | MR5-63-1119 | 70 | 1500 | 19 | 5.25 x 14 x 15 |
| CFW110010T2ON1Z | 230 Vac | 3 | CFDB5-63-1119 | 5 x 12 x 10 | MR5-63-1119 | 70 | 1500 | 19 | 5.25 x 14 x 15 |
| CFW110013T2ON1Z | 230 Vac | 5 | CFDB5-38-1865 | 5 x 19 x 13 | MR5-38-1865 | 39 | 2000 | 22 | 5.25 x 11 x 22 |
| CFW110016T2ON1Z | 230 Vac | 5 | CFDB5-38-1865 | 5 x 19 x 13 | MR5-38-1865 | 39 | 2000 | 22 | 5.25 x 11 x 22 |
| CFW110024T2ON1Z | 230 Vac | 7.5 | CFDB5-26-2798 | 5 x 26.5 x 13 | MR5-26-2798 | 26 | 3200 | 10 | 5.25 x 14 x 22 |
| CFW110028T2ON1Z | 230 Vac | 10 | CFDB5-19-3730 | 5 x 26.5 x 13 | MR5-19-3730 | 19.5 | 4100 | 41 | 8.25 x 18 x 20 |
| CFW110033T2ON1Z | 230 Vac | 10 | CFDB5-19-3730 | 5 x 26.5 x 13 | MR5-19-3730 | 19.5 | 4100 | 41 | 8.25 x 18 x 20 |
| CFW110045T2ON1Z | 230 Vac | 15 | CFDB5-13-5595 | 5 x 26.5 x 16 | MR5-13-5595 | 12.8 | 7100 | 40 | 8.25 x 18 x 20 |
| CFW110054T2ON1Z | 230 Vac | 20 | CFDB5-10-7460 | 10 x 28 x 13 | MR5-10-7460 | 9.61 | 10500 | 45 | 8.25 x 18 x 20 |
| CFW110070T2ON1Z | 230 Vac | 25 | CFDB5-8-9325 | 10 x 28 x 13 | MR5-8-9325 | 7.6 | 10500 | 27 | 8.25 x 24 x 20 |
| CFW110086T2ON1Z | 230 Vac | 30 | CFDB5-7-11190 | 10 x 28 x 16 | MR5-7-11190 | 6.41 | 14200 | 113 | 22.5 x 21.6 x 26 |
| CFW110105T2ON1Z | 230 Vac | 40 | CFDB5-5-14920 | 24 x 30 x 18 | MR5-5-14920 | 5.07 | 15700 | 113 | 22.5 x 21.6 x 26 |
| CFW110142T2ON1DBZ | 230 Vac | 50 | CFDB5-4-18650 | 24 x 30 x 18 | MR5-4-18650 | 4.34 | 19000 | 119 | 22.5 x 21.6 x 26 |
| CFW110180T2ON1DBZ | 230 Vac | 60 | CFDB5-4-22380 | 24 x 30 x 18 | MR5-4-22380 | 3.99 | 22500 | 161 | 30 x 21.6 x 26 |
| CFW110211T2ON1DBZ | 230 Vac | 75 | CFDB5-3-27975 | 32 x 30 x 18 | MR5-3-27975 | 2.89 | 28400 | 155 | 30 x 21.6 x 26 |
| CFW110003T4ON1Z | 460 Vac | 2 | CFDB5-375-746 | 5 x 12 x 13 | MR5-375-746 | 375 | 850 | 18 | 5.25 x 14 x 15 |
| CFW110005T4ON1Z | 460 Vac | 3 | CFDB5-250-1119 | 5 x 12 x 16 | MR5-250-1119 | 250 | 1300 | 21 | 5.25 x 11 x 22 |
| CFW110007T4ON1Z | 460 Vac | 5 | CFDB5-150-1865 | 5 x 19 x 13 | MR5-150-1865 | 162 | 1900 | 21 | 5.25 x 11 x 22 |
| CFW110010T4ON1Z | 460 Vac | 7.5 | CFDB5-100-2798 | 5 x 19 x 16 | MR5-100-2798 | 104 | 3200 | 10 | 5.25 x 14 x 22 |
| CFW110013T4ON1Z | 460 Vac | 10 | CFDB5-75-3730 | 5 x 26.5 x 16 | MR5-75-3730 | 78 | 4100 | 41 | 8.25 x 18 x 20 |
| CFW110017T4ON1Z | 460 Vac | 10 | CFDB5-75-3730 | 5 x 26.5 x 16 | MR5-75-3730 | 78 | 4100 | 41 | 8.25 x 18 x 20 |
| CFW110024T4ON1Z | 460 Vac | 15 | CFDB5-50-5595 | 10 x 28 x 13 | MR5-50-5595 | 52 | 6300 | 46 | 8.25 x 18 x 20 |
| CFW110031T4ON1Z | 460 Vac | 20 | CFDB5-38-7460 | 10 x 28 x 13 | MR5-38-7460 | 39 | 8100 | 38 | 8.25 x 24 x 20 |
| CFW110038T4ON1Z | 460 Vac | 25 | CFDB5-30-9325 | 10 x 28 x 16 | MR5-30-9325 | 30.4 | 10500 | 27 | 8.25 x 24 x 20 |
| CFW110045T4ON1Z | 460 Vac | 30 | CFDB5-25-11190 | 10 x 28 x 16 | MR5-25-11190 | 25.1 | 13900 | 111 | 22.5 x 21.6 x 26 |
| CFW110058T4ON1Z | 460 Vac | 40 | CFDB5-19-14920 | 24 x 30 x 18 | MR5-19-14920 | 19.2 | 21000 | 123 | 22.5 x 21.6 x 26 |
| CFW110088T4ON1Z | 460 Vac | 75 | CFDB5-10-27975 | 32 x 30 x 18 | MR5-10-27975 | 10.1 | 31300 | 179 | 37.5 x 21.6 x 26 |
| CFW110105T4ON1DBZ | 460 Vac | 75 | CFDB5-10-27975 | 32 x 30 x 18 | MR5-10-27975 | 10.1 | 31300 | 179 | 37.5 x 21.6 x 26 |
| CFW110180T4ON1DBZ | 460 Vac | 150 | CFDB5-5-55950 | 48 x 30 x 18 | MR5-5-55950 | 5.79 | 56800 | 243 | 45 x 21.6 x 26 |
| CFW110211T4ON1DBZ | 460 Vac | 175 | CFDB5-5-74600 | 72 x 30 x 18 | MR5-5-74600* | | | | |
| CFW110242T4ON1Z | 460 Vac | 200 | CFDB5-4-74600 | 30 x 18 x 72 | MR5-4-74600* | | | | |
| CFW110312T4ON1Z | 460 Vac | 250 | CFDB5-3-93250 | 30 x 18 x 72 | MR5-3-93250* | | | | |
| CFW110370T4ON1Z | 460 Vac | 300 | CFDB5-3-111900 | (2) 30 x 18 x 56 | MR5-3-111900* | | | | |
| CFW110477T4ON1Z | 460 Vac | 350 | CFDB5-3-130550 | (2) 30 x 18 x 56 | MR5-3-130550* | | | | |
| CFW110515T4ON1Z | 460 Vac | 400 | CFDB5-2-149200 | (2) 30 x 18 x 56 | MR5-2-149200* | | | | |
| CFW110601T4ON1Z | 460 Vac | 500 | CFDB5-2-186500 | (2) 30 x 18 x 56 | MR5-2-186500* | | | | |
| CFW110142T4ON1DBZ | 460 Vac | 100/125 | CFDB5-8-46625 | 32 x 30 x 18 | MR5-8-46625 | 8.3 | 46700 | 256 | 45 x 21.6 x 26 |
| CFW110070T4ON1Z | 460 Vac | 50/60 | CFDB5-15-22380 | 24 x 30 x 18 | MR5-15-22380 | 16 | 22000 | 141 | 30 x 21.6 x 26 |
20% Duty Cycle - Braking Resistor Selection Table
| Drive Model | Motor Voltage | Motor Power (HP) | WEG Resistor Catalog Number | WEG Dimensions (in) HxWxD | MegaResistors Model Number | Resistance (Ohms) | Power (W) | Weight (lbs) | Dimensions (in) HxWxD |
| --- | --- | --- | --- | --- | --- | --- | --- | --- | --- |
| CFW701A06P0S2DBN1C3 | 230 Vac | 1.5 | CFDB5-125-224 | 5 x 12 x 5 | MR5-125-224 | 125 | 280 | 11 | 5.25 x 8 x 15 |
| CFW701A07P0S2DBN1C3 | 230 Vac | 2 | CFDB5-95-298 | 5 x 12 x 7 | MR5-95-298 | 95 | 500 | 12 | 5.25 x 8 x 15 |
| CFW701A07P0T2DBN1C3 | 230 Vac | 2 | CFDB5-95-298 | 5 x 12 x 7 | MR5-95-298 | 95 | 500 | 12 | 5.25 x 8 x 15 |
| CFW701A10P0S2DBN1C3 | 230 Vac | 3 | CFDB5-63-448 | 5 x 12 x 7 | MR5-63-448 | 65 | 760 | 12 | 5.25 x 8 x 15 |
| CFW701A10P0T2DBN1C3 | 230 Vac | 3 | CFDB5-63-448 | 5 x 12 x 7 | MR5-63-448 | 65 | 760 | 12 | 5.25 x 8 x 15 |
| CFW701A13P0T2DBN1C3 | 230 Vac | 5 | CFDB5-38-746 | 5 x 12 x 10 | MR5-38-746 | 40 | 850 | 12 | 5.25 x 8 x 15 |
| CFW701A16P0T2DBN1C3 | 230 Vac | 5 | CFDB5-38-746 | 5 x 12 x 10 | MR5-38-746 | 40 | 850 | 12 | 5.25 x 8 x 15 |
| CFW701B24P0T2DBN1C3 | 230 Vac | 7.5 | CFDB5-26-1119 | 5 x 12 x 13 | MR5-26-1119 | 26 | 1350 | 19 | 5.25 x 14 x 15 |
| CFW701B28P0T2DBN1C3 | 230 Vac | 10 | CFDB5-19-1492 | 5 x 12 x 16 | MR5-19-1492 | 20 | 1700 | 19 | 5.25 x 14 x 15 |
| CFW701B33P5T2DBN1C3 | 230 Vac | 10 | CFDB5-19-1492 | 5 x 12 x 16 | MR5-19-1492 | 20 | 1700 | 19 | 5.25 x 14 x 15 |
| CFW701C45P0T2DBN1C3 | 230 Vac | 15 | CFDB5-13-2238 | 5 x 19 x 10 | MR5-13-2238 | 13 | 2700 | 10 | 5.25 x 14 x 22 |
| CFW701C54P0T2DBN1C3 | 230 Vac | 20 | CFDB5-10-2984 | 5 x 19 x 10 | MR5-10-2984 | 9.6 | 3300 | 21 | 5.25 x 11 x 22 |
| CFW701C70P0T2DBN1C3 | 230 Vac | 25 | CFDB5-8-3730 | 5 x 19 x 13 | MR5-8-3730 | 7.69 | 4300 | 8 | 5.25 x 14 x 22 |
| CFW701D86P0T2DBN1C3 | 230 Vac | 30 | CFDB5-7-4476 | 5 x 26.5 x 13 | MR5-7-4476 | 6.51 | 7100 | 40 | 8.25 x 18 x 20 |
| CFW701D0105T2DBN1C3 | 230 Vac | 40 | CFDB5-5-5968 | 5 x 26.5 x 16 | MR5-5-5968 | 5.2 | 7200 | 40 | 8.25 x 18 x 20 |
| n/a | 230 Vac | 50 | CFDB5-4-7460 | 10 x 28 x 10 | MR5-4-7460 | 4.1 | 9100 | 42 | 8.25 x 18 x 20 |
| n/a | 230 Vac | 60 | CFDB5-4-8952 | 10 x 28 x 10 | MR5-4-8952 | 3.47 | 10700 | 30 | 8.25 x 24 x 20 |
| n/a | 230 Vac | 75 | CFDB5-3-11190 | 10 x 28 x 13 | MR5-3-11190 | 2.79 | 12200 | 32 | 8.25 x 24 x 20 |
| CFW701A03P6T4DBN1C3 | 460 Vac | 2 | CFDB5-375-298 | 5 x 12 x 7 | MR5-375-298 | 375 | 850 | 18 | 5.25 x 14 x 15 |
| CFW701A05P0T4DBN1C3 | 460 Vac | 3 | CFDB5-250-448 | 5 x 12 x 7 | MR5-250-448 | 250 | 570 | 12 | 5.25 x 8 x 15 |
| CFW701A07P0T4DBN1C3 | 460 Vac | 5 | CFDB5-150-746 | 5 x 12 x 10 | MR5-150-746 | 150 | 800 | 18 | 5.25 x 14 x 15 |
| CFW701A10P0T4DBN1C3 | 460 Vac | 7.5 | CFDB5-100-1119 | 5 x 12 x 13 | MR5-100-1119 | 105 | 1200 | 18 | 5.25 x 14 x 15 |
| CFW701A13P5T4DBN1C3 | 460 Vac | 10 | CFDB5-75-1492 | 5 x 12 x 16 | MR5-75-1492 | 80 | 1700 | 19 | 5.25 x 14 x 15 |
| CFW701B17P0T4DBN1C3 | 460 Vac | 10 | CFDB5-75-1492 | 5 x 12 x 16 | MR5-75-1492 | 80 | 1700 | 19 | 5.25 x 14 x 15 |
| CFW701B24P0T4DBN1C3 | 460 Vac | 15 | CFDB5-50-2238 | 5 x 19 x 13 | MR5-50-2238 | 52 | 2700 | 10 | 5.25 x 14 x 22 |
| CFW701B31P0T4DBN1C3 | 460 Vac | 20 | CFDB5-38-2984 | 5 x 19 x 16 | MR5-38-2984 | 40 | 3400 | 10 | 5.25 x 14 x 22 |
| CFW701C38P0T4DBN1C3 | 460 Vac | 25 | CFDB5-30-3730 | 5 x 26.5 x 13 | MR5-30-3730 | 30.1 | 4800 | 43 | 8.25 x 18 x 20 |
| CFW701C45P0T4DBN1C3 | 460 Vac | 30 | CFDB5-25-4476 | 5 x 26.5 x 13 | MR5-25-4476 | 26 | 5400 | 46 | 8.25 x 18 x 20 |
| CFW701C58P5T4DBN1C3 | 460 Vac | 40 | CFDB5-19-5968 | 5 x 26.5 x 16 | MR5-19-5968 | 19.2 | 6600 | 37 | 8.25 x 18 x 20 |
| CFW701D88P0T4DBN1C3 | 460 Vac | 75 | CFDB5-10-11190 | 10 x 28 x 16 | MR5-10-11190 | 10.2 | 11200 | 30 | 8.25 x 24 x 20 |
| n/a | 460 Vac | 75 | CFDB5-10-11190 | 10 x 28 x 16 | MR5-10-11190 | 10.2 | 11200 | 30 | 8.25 x 24 x 20 |
| n/a | 460 Vac | 150 | CFDB5-5-22380 | 24 x 30 x 18 | MR5-5-22380 | 5.27 | 23000 | 128 | 22.5 x 21.6 x 26 |
| n/a | 460 Vac | 175 | CFDB5-5-29840 | 24 x 30 x 18 | MR5-5-29840 | 5.36 | 30200 | 178 | 30 x 21.6 x 26 |
| n/a | 460 Vac | 100/125 | CFDB5-8-18650 | 24 x 30 x 18 | MR5-8-18650 | 8 | 24700 | 148 | 30 x 21.6 x 26 |
| CFW701D70P5T4DBN1C3 | 460 Vac | 50/60 | CFDB2-15-8952 | 10 x 28 x 13 | MR2-15-8952 | 16.4 | 9100 | 42 | 8.25 x 18 x 20 |
50% Duty Cycle - Braking Resistor Selection Table
| Drive Model | Motor Voltage | Motor Power (HP) | WEG Resistor Catalog Number | WEG Dimensions (in) HxWxD | MegaResistors Model Number | Resistance (Ohms) | Power (W) | Weight (lbs) | Dimensions (in) HxWxD |
| --- | --- | --- | --- | --- | --- | --- | --- | --- | --- |
| CFW701A06P0S2DBN1C3 | 230 Vac | 1.5 | CFDB5-125-560 | 5 x 12 x 10 | MR5-125-560 | 128 | 680 | 18 | 5.25 x 14 x 15 |
| CFW701A07P0S2DBN1C3 | 230 Vac | 2 | CFDB5-95-746 | 5 x 12 x 10 | MR5-95-746 | 97.5 | 1130 | 18 | 5.25 x 14 x 15 |
| CFW701A07P0T2DBN1C3 | 230 Vac | 2 | CFDB5-95-746 | 5 x 12 x 10 | MR5-95-746 | 97.5 | 1130 | 18 | 5.25 x 14 x 15 |
| CFW701A10P0S2DBN1C3 | 230 Vac | 3 | CFDB5-63-1119 | 5 x 12 x 10 | MR5-63-1119 | 70 | 1500 | 19 | 5.25 x 14 x 15 |
| CFW701A10P0T2DBN1C3 | 230 Vac | 3 | CFDB5-63-1119 | 5 x 12 x 10 | MR5-63-1119 | 70 | 1500 | 19 | 5.25 x 14 x 15 |
| CFW701A13P0T2DBN1C3 | 230 Vac | 5 | CFDB5-38-1865 | 5 x 19 x 13 | MR5-38-1865 | 39 | 2000 | 22 | 5.25 x 11 x 22 |
| CFW701A16P0T2DBN1C3 | 230 Vac | 5 | CFDB5-38-1865 | 5 x 19 x 13 | MR5-38-1865 | 39 | 2000 | 22 | 5.25 x 11 x 22 |
| CFW701B24P0T2DBN1C3 | 230 Vac | 7.5 | CFDB5-26-2798 | 5 x 26.5 x 13 | MR5-26-2798 | 26 | 3200 | 10 | 5.25 x 14 x 22 |
| CFW701B28P0T2DBN1C3 | 230 Vac | 10 | CFDB5-19-3730 | 5 x 26.5 x 13 | MR5-19-3730 | 19.5 | 4100 | 41 | 8.25 x 18 x 20 |
| CFW701B33P5T2DBN1C3 | 230 Vac | 10 | CFDB5-19-3730 | 5 x 26.5 x 13 | MR5-19-3730 | 19.5 | 4100 | 41 | 8.25 x 18 x 20 |
| CFW701C45P0T2DBN1C3 | 230 Vac | 15 | CFDB5-13-5595 | 5 x 26.5 x 16 | MR5-13-5595 | 12.8 | 7100 | 40 | 8.25 x 18 x 20 |
| CFW701C54P0T2DBN1C3 | 230 Vac | 20 | CFDB5-10-7460 | 10 x 28 x 13 | MR5-10-7460 | 9.61 | 10500 | 45 | 8.25 x 18 x 20 |
| CFW701C70P0T2DBN1C3 | 230 Vac | 25 | CFDB5-8-9325 | 10 x 28 x 13 | MR5-8-9325 | 7.6 | 10500 | 27 | 8.25 x 24 x 20 |
| CFW701D86P0T2DBN1C3 | 230 Vac | 30 | CFDB5-7-11190 | 10 x 28 x 16 | MR5-7-11190 | 6.41 | 14200 | 113 | 22.5 x 21.6 x 26 |
| CFW701D0105T2DBN1C3 | 230 Vac | 40 | CFDB5-5-14920 | 24 x 30 x 18 | MR5-5-14920 | 5.07 | 15700 | 113 | 22.5 x 21.6 x 26 |
| CFW701A03P6T4DBN1C3 | 460 Vac | 2 | CFDB5-375-746 | 5 x 12 x 13 | MR5-375-746 | 375 | 850 | 18 | 5.25 x 14 x 15 |
| CFW701A05P0T4DBN1C3 | 460 Vac | 3 | CFDB5-250-1119 | 5 x 12 x 16 | MR5-250-1119 | 250 | 1300 | 21 | 5.25 x 11 x 22 |
| CFW701A07P0T4DBN1C3 | 460 Vac | 5 | CFDB5-150-1865 | 5 x 19 x 13 | MR5-150-1865 | 162 | 1900 | 21 | 5.25 x 11 x 22 |
| CFW701A10P0T4DBN1C3 | 460 Vac | 7.5 | CFDB5-100-2798 | 5 x 19 x 16 | MR5-100-2798 | 104 | 3200 | 10 | 5.25 x 14 x 22 |
| CFW701A13P5T4DBN1C3 | 460 Vac | 10 | CFDB5-75-3730 | 5 x 26.5 x 16 | MR5-75-3730 | 78 | 4100 | 41 | 8.25 x 18 x 20 |
| CFW701B17P0T4DBN1C3 | 460 Vac | 10 | CFDB5-75-3730 | 5 x 26.5 x 16 | MR5-75-3730 | 78 | 4100 | 41 | 8.25 x 18 x 20 |
| CFW701B24P0T4DBN1C3 | 460 Vac | 15 | CFDB5-50-5595 | 10 x 28 x 13 | MR5-50-5595 | 52 | 6300 | 46 | 8.25 x 18 x 20 |
| CFW701B31P0T4DBN1C3 | 460 Vac | 20 | CFDB5-38-7460 | 10 x 28 x 13 | MR5-38-7460 | 39 | 8100 | 38 | 8.25 x 24 x 20 |
| CFW701C38P0T4DBN1C3 | 460 Vac | 25 | CFDB5-30-9325 | 10 x 28 x 16 | MR5-30-9325 | 30.4 | 10500 | 27 | 8.25 x 24 x 20 |
| CFW701C45P0T4DBN1C3 | 460 Vac | 30 | CFDB5-25-11190 | 10 x 28 x 16 | MR5-25-11190 | 25.1 | 13900 | 111 | 22.5 x 21.6 x 26 |
| CFW701C58P5T4DBN1C3 | 460 Vac | 40 | CFDB5-19-14920 | 24 x 30 x 18 | MR5-19-14920 | 19.2 | 21000 | 123 | 22.5 x 21.6 x 26 |
| CFW701D88P0T4DBN1C3 | 460 Vac | 75 | CFDB5-10-27975 | 32 x 30 x 18 | MR5-10-27975 | 10.1 | 31300 | 179 | 37.5 x 21.6 x 26 |
| CFW701D70P5T4DBN1C3 | 460 Vac | 50/60 | CFDB2-15-22380 | 24 x 30 x 18 | MR2-15-22380 | 16 | 22000 | 141 | 30 x 21.6 x 26 |
10% Duty Cycle - Braking Resistor Selection Table
| Drive Model | Motor Voltage | Motor Power (HP) | WEG Resistor Catalog Number | MegaResistors Model Number | Resistance (Ohms) | Power (W) | Weight (lbs) | Dimensions (in) HxWxD |
| --- | --- | --- | --- | --- | --- | --- | --- | --- |
| CFW080073BDN4A1Z | 230 Vac | 2 | CFDB39-224 | MR39-224 | 42.5 | 225 | 11 | 5.25 x 8 x 15 |
| CFW080100BDN4A1Z | 230 Vac | 3 | CFDB27-298 | MR27-298 | 27 | 310 | 11 | 5.25 x 8 x 15 |
| CFW080160TDN4A1Z | 230 Vac | 5 | CFDB22-373 | MR22-373 | 28 | 600 | 12 | 5.25 x 8 x 15 |
| CFW080220TDN4A1Z | 230 Vac | 7.5 | CFDB15-560 | MR15-560 | 15 | 600 | 12 | 5.25 x 8 x 15 |
| CFW080280TDN4A1Z | 230 Vac | 10 | CFDB10-746 | MR10-746 | 10 | 850 | 12 | 5.25 x 8 x 15 |
| CFW080027TGN1A1Z | 460 Vac | 1 | CFDB120-298 | MR120-298 | 120 | 640 | 12 | 5.25 x 8 x 15 |
| CFW080043TGN1A1Z | 460 Vac | 2 | CFDB120-298 | MR120-298 | 120 | 640 | 12 | 5.25 x 8 x 15 |
| CFW080065TGN1A1Z | 460 Vac | 3 | CFDB100-224 | MR100-224 | 100 | 225 | 11 | 5.25 x 8 x 15 |
| CFW080100TGN1A1Z | 460 Vac | 5 | CFDB47-746 | MR47-746 | 52.5 | 1100 | 18 | 5.25 x 14 x 15 |
| CFW080130TGN1A1Z | 460 Vac | 7.5 | CFDB33-746 | MR33-746 | 35 | 750 | 12 | 5.25 x 8 x 15 |
| CFW080160TGN1A1Z | 460 Vac | 10 | CFDB33-746 | MR33-746 | 35 | 750 | 12 | 5.25 x 8 x 15 |
| CFW080240TGN1A1Z | 460 Vac | 15 | CFDB22-1119 | MR22-1119 | 22 | 1150 | 19 | 5.25 x 14 x 15 |
| CFW080300TGN1A1Z | 460 Vac | 20 | CFDB18-1492 | MR18-1492 | 20 | 1700 | 19 | 5.25 x 14 x 15 |
Browse by Cross-Reference
WEG - MegaResistors Cross-Reference Table
| WEG Resistor Catalog Number | WEG Resistance (Ohms) | WEG Power (W) | WEG Dimensions (in) HxWxD | MegaResistors Resistor Part Number | MR Resistance (Ohms) | MR Power (Watts) | MR Weight | MR Dimensions |
| --- | --- | --- | --- | --- | --- | --- | --- | --- |
| CFDB39-224 | 39 | 224 | n/a | MR39-224 | 42.5 | 225 | 11 | 5.25 x 8 x 15 |
| CFDB100-224 | 100 | 224 | n/a | MR100-224 | 100 | 225 | 11 | 5.25 x 8 x 15 |
| CFDB2-125-224 | 125 | 224 | 5 x 12 x 5 | MR2-125-224 | 125 | 280 | 11 | 5.25 x 8 x 15 |
| CFDB5-125-224 | 125 | 224 | 5 x 12 x 5 | MR5-125-224 | 125 | 280 | 11 | 5.25 x 8 x 15 |
| CFDB27-298 | 27 | 298 | n/a | MR27-298 | 27 | 310 | 11 | 5.25 x 8 x 15 |
| CFDB2-95-298 | 95 | 298 | 5 x 12 x 7 | MR2-95-298 | 95 | 500 | 12 | 5.25 x 8 x 15 |
| CFDB5-95-298 | 95 | 298 | 5 x 12 x 7 | MR5-95-298 | 95 | 500 | 12 | 5.25 x 8 x 15 |
| CFDB2-250-448 | 250 | 448 | 5 x 12 x 7 | MR2-250-448 | 250 | 570 | 12 | 5.25 x 8 x 15 |
| CFDB5-250-448 | 250 | 448 | 5 x 12 x 7 | MR5-250-448 | 250 | 570 | 12 | 5.25 x 8 x 15 |
| CFDB15-560 | 15 | 560 | n/a | MR15-560 | 15 | 600 | 12 | 5.25 x 8 x 15 |
| CFDB22-373 | 22 | 373 | n/a | MR22-373 | 28 | 600 | 12 | 5.25 x 8 x 15 |
| CFDB120-298 | 120 | 298 | n/a | MR120-298 | 120 | 640 | 12 | 5.25 x 8 x 15 |
| CFDB5-125-560 | 125 | 560 | 5 x 12 x 10 | MR5-125-560 | 128 | 680 | 18 | 5.25 x 14 x 15 |
| CFDB33-746 | 33 | 746 | n/a | MR33-746 | 35 | 750 | 12 | 5.25 x 8 x 15 |
| CFDB2-63-448 | 63 | 448 | 5 x 12 x 7 | MR2-63-448 | 65 | 760 | 12 | 5.25 x 8 x 15 |
| CFDB5-63-448 | 63 | 448 | 5 x 12 x 7 | MR5-63-448 | 65 | 760 | 12 | 5.25 x 8 x 15 |
| CFDB2-150-746 | 150 | 746 | 5 x 12 x 10 | MR2-150-746 | 150 | 800 | 18 | 5.25 x 14 x 15 |
| CFDB5-150-746 | 150 | 746 | 5 x 12 x 10 | MR5-150-746 | 150 | 800 | 18 | 5.25 x 14 x 15 |
| CFDB10-746 | 10 | 746 | n/a | MR10-746 | 10 | 850 | 12 | 5.25 x 8 x 15 |
| CFDB2-38-746 | 38 | 746 | 5 x 12 x 10 | MR2-38-746 | 40 | 850 | 12 | 5.25 x 8 x 15 |
| CFDB5-38-746 | 38 | 746 | 5 x 12 x 10 | MR5-38-746 | 40 | 850 | 12 | 5.25 x 8 x 15 |
| CFDB2-375-298 | 375 | 298 | 5 x 12 x 7 | MR2-375-298 | 375 | 850 | 18 | 5.25 x 14 x 15 |
| CFDB5-375-298 | 375 | 298 | 5 x 12 x 7 | MR5-375-298 | 375 | 850 | 18 | 5.25 x 14 x 15 |
| CFDB5-375-746 | 375 | 746 | 5 x 12 x 13 | MR5-375-746 | 375 | 850 | 18 | 5.25 x 14 x 15 |
| CFDB47-746 | 47 | 746 | n/a | MR47-746 | 52.5 | 1100 | 18 | 5.25 x 14 x 15 |
| CFDB5-95-746 | 95 | 746 | 5 x 12 x 10 | MR5-95-746 | 97.5 | 1130 | 18 | 5.25 x 14 x 15 |
| CFDB22-1119 | 22 | 1119 | n/a | MR22-1119 | 22 | 1150 | 19 | 5.25 x 14 x 15 |
| CFDB2-100-1119 | 100 | 1119 | 5 x 12 x 13 | MR2-100-1119 | 105 | 1200 | 18 | 5.25 x 14 x 15 |
| CFDB5-100-1119 | 100 | 1119 | 5 x 12 x 13 | MR5-100-1119 | 105 | 1200 | 18 | 5.25 x 14 x 15 |
| CFDB5-250-1119 | 250 | 1119 | 5 x 12 x 16 | MR5-250-1119 | 250 | 1300 | 21 | 5.25 x 11 x 22 |
| CFDB5-26-1119 | 26 | 1119 | 5 x 12 x 13 | MR5-26-1119 | 26 | 1350 | 19 | 5.25 x 14 x 15 |
| CFDB5-63-1119 | 63 | 1119 | 5 x 12 x 10 | MR5-63-1119 | 70 | 1500 | 19 | 5.25 x 14 x 15 |
| CFDB18-1492 | 18 | 1492 | n/a | MR18-1492 | 20 | 1700 | 19 | 5.25 x 14 x 15 |
| CFDB2-19-1492 | 19 | 1492 | 5 x 12 x 16 | MR2-19-1492 | 20 | 1700 | 19 | 5.25 x 14 x 15 |
| CFDB5-19-1492 | 19 | 1492 | 5 x 12 x 16 | MR5-19-1492 | 20 | 1700 | 19 | 5.25 x 14 x 15 |
| CFDB2-75-1492 | 75 | 1492 | 5 x 12 x 16 | MR2-75-1492 | 80 | 1700 | 19 | 5.25 x 14 x 15 |
| CFDB5-75-1492 | 75 | 1492 | 5 x 12 x 16 | MR5-75-1492 | 80 | 1700 | 19 | 5.25 x 14 x 15 |
| CFDB5-150-1865 | 150 | 1865 | 5 x 19 x 13 | MR5-150-1865 | 162 | 1900 | 21 | 5.25 x 11 x 22 |
| CFDB5-38-1865 | 38 | 1865 | 5 x 19 x 13 | MR5-38-1865 | 39 | 2000 | 22 | 5.25 x 11 x 22 |
| CFDB2-13-2238 | 12.6 | 2238 | 5 x 19 x 10 | MR2-13-2238 | 13 | 2700 | 10 | 5.25 x 14 x 22 |
| CFDB5-13-2238 | 12.6 | 2238 | 5 x 19 x 10 | MR5-13-2238 | 13 | 2700 | 10 | 5.25 x 14 x 22 |
| CFDB2-50-2238 | 50 | 2238 | 5 x 19 x 13 | MR2-50-2238 | 52 | 2700 | 10 | 5.25 x 14 x 22 |
| CFDB5-50-2238 | 50 | 2238 | 5 x 19 x 13 | MR5-50-2238 | 52 | 2700 | 10 | 5.25 x 14 x 22 |
| CFDB5-26-2798 | 26 | 2798 | 5 x 26.5 x 13 | MR5-26-2798 | 26 | 3200 | 10 | 5.25 x 14 x 22 |
| CFDB5-100-2798 | 100 | 2798 | 5 x 19 x 16 | MR5-100-2798 | 104 | 3200 | 10 | 5.25 x 14 x 22 |
| CFDB2-10-2984 | 9.6 | 2984 | 5 x 19 x 10 | MR2-10-2984 | 9.6 | 3300 | 21 | 5.25 x 11 x 22 |
| CFDB5-10-2984 | 9.6 | 2984 | 5 x 19 x 10 | MR5-10-2984 | 9.6 | 3300 | 21 | 5.25 x 11 x 22 |
| CFDB2-38-2984 | 38 | 2984 | 5 x 19 x 16 | MR2-38-2984 | 40 | 3400 | 10 | 5.25 x 14 x 22 |
| CFDB5-38-2984 | 38 | 2984 | 5 x 19 x 16 | MR5-38-2984 | 40 | 3400 | 10 | 5.25 x 14 x 22 |
| CFDB5-19-3730 | 19 | 3730 | 5 x 26.5 x 13 | MR5-19-3730 | 19.5 | 4100 | 41 | 8.25 x 18 x 20 |
| CFDB5-75-3730 | 75 | 3730 | 5 x 26.5 x 16 | MR5-75-3730 | 78 | 4100 | 41 | 8.25 x 18 x 20 |
| CFDB2-8-3730 | 7.5 | 3730 | 5 x 19 x 13 | MR2-8-3730 | 7.69 | 4300 | 8 | 5.25 x 14 x 22 |
| CFDB5-8-3730 | 7.5 | 3730 | 5 x 19 x 13 | MR5-8-3730 | 7.69 | 4300 | 8 | 5.25 x 14 x 22 |
| CFDB2-7-4476 | 6.3 | 4476 | 5 x 26.5 x 13 | MR2-7-4476 | 8.2 | 4600 | 8 | 5.25 x 14 x 22 |
| CFDB2-30-3730 | 30 | 3730 | 5 x 26.5 x 13 | MR2-30-3730 | 30.1 | 4800 | 43 | 8.25 x 18 x 20 |
| CFDB5-30-3730 | 30 | 3730 | 5 x 26.5 x 13 | MR5-30-3730 | 30.1 | 4800 | 43 | 8.25 x 18 x 20 |
| CFDB2-25-4476 | 25 | 4476 | 5 x 26.5 x 13 | MR2-25-4476 | 26 | 5400 | 46 | 8.25 x 18 x 20 |
| CFDB5-25-4476 | 25 | 4476 | 5 x 26.5 x 13 | MR5-25-4476 | 26 | 5400 | 46 | 8.25 x 18 x 20 |
| CFDB5-50-5595 | 50 | 5595 | 10 x 28 x 13 | MR5-50-5595 | 52 | 6300 | 46 | 8.25 x 18 x 20 |
| CFDB2-19-5968 | 19 | 5968 | 5 x 26.5 x 16 | MR2-19-5968 | 19.2 | 6600 | 37 | 8.25 x 18 x 20 |
| CFDB5-19-5968 | 19 | 5968 | 5 x 26.5 x 16 | MR5-19-5968 | 19.2 | 6600 | 37 | 8.25 x 18 x 20 |
| CFDB5-7-4476 | 6.3 | 4476 | 5 x 26.5 x 13 | MR5-7-4476 | 6.51 | 7100 | 40 | 8.25 x 18 x 20 |
| CFDB5-13-5595 | 12.6 | 5595 | 5 x 26.5 x 16 | MR5-13-5595 | 12.8 | 7100 | 40 | 8.25 x 18 x 20 |
| CFDB2-5-5968 | 4.9 | 5968 | 5 x 26.5 x 16 | MR2-5-5968 | 5.2 | 7200 | 40 | 8.25 x 18 x 20 |
| CFDB5-5-5968 | 4.9 | 5968 | 5 x 26.5 x 16 | MR5-5-5968 | 5.2 | 7200 | 40 | 8.25 x 18 x 20 |
| CFDB5-38-7460 | 38 | 7460 | 10 x 28 x 13 | MR5-38-7460 | 39 | 8100 | 38 | 8.25 x 24 x 20 |
| CFDB2-4-7460 | 3.9 | 7460 | 10 x 28 x 10 | MR2-4-7460 | 4.1 | 9100 | 42 | 8.25 x 18 x 20 |
| CFDB5-4-7460 | 3.9 | 7460 | 10 x 28 x 10 | MR5-4-7460 | 4.1 | 9100 | 42 | 8.25 x 18 x 20 |
| CFDB2-15-8952 | 15 | 8952 | 10 x 28 x 13 | MR2-15-8952 | 16.4 | 9100 | 42 | 8.25 x 18 x 20 |
| CFDB5-8-9325 | 7.5 | 9325 | 10 x 28 x 13 | MR5-8-9325 | 7.6 | 10500 | 27 | 8.25 x 24 x 20 |
| CFDB5-10-7460 | 9.6 | 7460 | 10 x 28 x 13 | MR5-10-7460 | 9.61 | 10500 | 45 | 8.25 x 18 x 20 |
| CFDB5-30-9325 | 30 | 9325 | 10 x 28 x 16 | MR5-30-9325 | 30.4 | 10500 | 27 | 8.25 x 24 x 20 |
| CFDB2-4-8952 | 3.3 | 8952 | 10 x 28 x 10 | MR2-4-8952 | 3.47 | 10700 | 30 | 8.25 x 24 x 20 |
| CFDB5-4-8952 | 3.3 | 8952 | 10 x 28 x 10 | MR5-4-8952 | 3.47 | 10700 | 30 | 8.25 x 24 x 20 |
| CFDB2-10-11190 | 10 | 11190 | 10 x 28 x 16 | MR2-10-11190 | 10.2 | 11200 | 30 | 8.25 x 24 x 20 |
| CFDB5-10-11190 | 10 | 11190 | 10 x 28 x 16 | MR5-10-11190 | 10.2 | 11200 | 30 | 8.25 x 24 x 20 |
| CFDB2-3-11190 | 2.7 | 11190 | 10 x 28 x 13 | MR2-3-11190 | 2.79 | 12200 | 32 | 8.25 x 24 x 20 |
| CFDB5-3-11190 | 2.7 | 11190 | 10 x 28 x 13 | MR5-3-11190 | 2.79 | 12200 | 32 | 8.25 x 24 x 20 |
| CFDB5-25-11190 | 25 | 11190 | 10 x 28 x 16 | MR5-25-11190 | 25.1 | 13900 | 111 | 22.5 x 21.6 x 26 |
| CFDB5-7-11190 | 6.3 | 11190 | 10 x 28 x 16 | MR5-7-11190 | 6.41 | 14200 | 113 | 22.5 x 21.6 x 26 |
| CFDB5-5-14920 | 4.9 | 14920 | 24 x 30 x 18 | MR5-5-14920 | 5.07 | 15700 | 113 | 22.5 x 21.6 x 26 |
| CFDB5-4-18650 | 3.9 | 18650 | 24 x 30 x 18 | MR5-4-18650 | 4.34 | 19000 | 119 | 22.5 x 21.6 x 26 |
| CFDB5-19-14920 | 19 | 14920 | 24 x 30 x 18 | MR5-19-14920 | 19.2 | 21000 | 123 | 22.5 x 21.6 x 26 |
| CFDB2-15-22380 | 15 | 22380 | 24 x 30 x 18 | MR2-15-22380 | 16 | 22000 | 141 | 30 x 21.6 x 26 |
| CFDB5-15-22380 | 15 | 22380 | 24 x 30 x 18 | MR5-15-22380 | 16 | 22000 | 141 | 30 x 21.6 x 26 |
| CFDB5-4-22380 | 3.3 | 22380 | 24 x 30 x 18 | MR5-4-22380 | 3.99 | 22500 | 161 | 30 x 21.6 x 26 |
| CFDB2-5-22380 | 5 | 22380 | 24 x 30 x 18 | MR2-5-22380 | 5.27 | 23000 | 128 | 22.5 x 21.6 x 26 |
| CFDB5-5-22380 | 5 | 22380 | 24 x 30 x 18 | MR5-5-22380 | 5.27 | 23000 | 128 | 22.5 x 21.6 x 26 |
| CFDB2-8-18650 | 8 | 18650 | 24 x 30 x 18 | MR2-8-18650 | 8 | 24700 | 148 | 30 x 21.6 x 26 |
| CFDB5-8-18650 | 8 | 18650 | 24 x 30 x 18 | MR5-8-18650 | 8 | 24700 | 148 | 30 x 21.6 x 26 |
| CFDB5-3-27975 | 2.7 | 27975 | 32 x 30 x 18 | MR5-3-27975 | 2.89 | 28400 | 155 | 30 x 21.6 x 26 |
| CFDB2-5-29840 | 5 | 29840 | 24 x 30 x 18 | MR2-5-29840 | 5.36 | 30200 | 178 | 30 x 21.6 x 26 |
| CFDB5-5-29840 | 5 | 29840 | 24 x 30 x 18 | MR5-5-29840 | 5.36 | 30200 | 178 | 30 x 21.6 x 26 |
| CFDB5-10-27975 | 10 | 27975 | 32 x 30 x 18 | MR5-10-27975 | 10.1 | 31300 | 179 | 37.5 x 21.6 x 26 |
| CFDB2-4-29840 | 3.8 | 29840 | 30 x 18 x 32 | MR2-4-29840 | 3.82 | 37500 | 195 | 37.5 x 21.6 x 26 |
| CFDB2-3-37300 | 3 | 37300 | 30 x 18 x 32 | MR2-3-37300 | 3.01 | 38100 | 217 | 37.5 x 21.6 x 26 |
| CFDB2-3-44760 | 2.5 | 44760 | 30 x 18 x 32 | MR2-3-44760 | 2.6 | 45300 | 258 | 37.5 x 21.6 x 26 |
| CFDB5-8-46625 | 8 | 46625 | 32 x 30 x 18 | MR5-8-46625 | 8.3 | 46700 | 256 | 45 x 21.6 x 26 |
| CFDB2-3-52220 | 2.2 | 52220 | 30 x 18 x 48 | MR2-3-52220 | 2.34 | 52800 | 325 | 45 x 21.6 x 26 |
| CFDB5-5-55950 | 5 | 55950 | 48 x 30 x 18 | MR5-5-55950 | 5.79 | 56800 | 243 | 45 x 21.6 x 26 |
| CFDB2-2-59680 | 1.9 | 59680 | 30 x 18 x 48 | MR2-2-59680 | 1.92 | 75500 | 388 | 52.5 x 21.6 x 26 |
| CFDB2-2-74600 | 1.5 | 74600 | 30 x 18 x 64 | MR2-2-74600 | 1.5 | 76000 | 420 | 52.5 x 21.6 x 26 |
| CFDB5-2-149200 | 1.9 | 149200 | (2) 30 x 18 x 56 | MR5-2-149200* | | | | |
| CFDB5-2-186500 | 1.5 | 186500 | (2) 30 x 18 x 56 | MR5-2-186500* | | | | |
| CFDB5-3-111900 | 2.5 | 111900 | (2) 30 x 18 x 56 | MR5-3-111900* | | | | |
| CFDB5-3-130550 | 2.2 | 130550 | (2) 30 x 18 x 56 | MR5-3-130550* | | | | |
| CFDB5-3-93250 | 3 | 93250 | 30 x 18 x 72 | MR5-3-93250* | | | | |
| CFDB5-4-74600 | 3.8 | 74600 | 30 x 18 x 72 | MR5-4-74600* | | | | |
| CFDB5-5-74600 | 5 | 74600 | 72 x 30 x 18 | MR5-5-74600* | | | | |